location
Baggator Training Centre was situated in a fairly isolated area of Dartmoor not far from Tavistock with local villages Peter Tavy and Mary Tavy close at hand. The farmhouse could only be reached by a narrow road ending in a rough track across an open field.
Nestled in a valley under the shelter of Bagga Tor (361m) and surrounded by Lynch Tor and Standen Hill it was an idealistic location for walking particularly to the amazing rock-strewn Tavy Cleave with the fast flowing River Tavy running through it.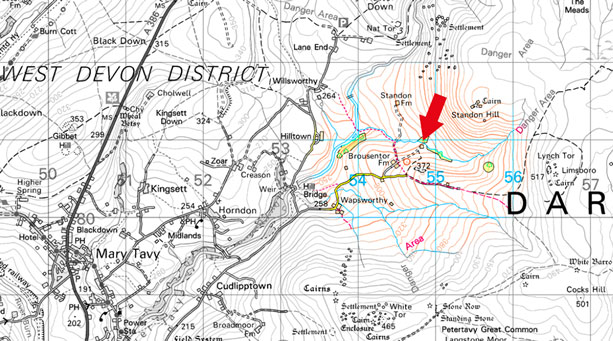 Ordiance Survery Map Reference Number SX548806, showing Baggator farm location
Tavistock is a small market town on the western edge of Dartmoor. It has a population of around 11,000 people. It can trace it's history back at least to AD 961, when Tavistock Abbey, whose ruins lie in the centre of the town, was founded. Its most famous son is Sir Francis Drake born around 1540 in a farmhouse just outside Tavistock.
Peter Tavy and Mary Tavy are twin villages and you may have wondered how they got their names. Well it is quite simple really, St. Peter's Church and St Mary's Church are both on the banks of the River Tavy. The villagers were mainly employed in mining.
Google Maps
Mary Tavy, whose most lasting memory for the thousands who pass by, on the main Okehampton to Tavistock road, must be this view of Wheal Betsy, the ruined engine house of an ancient silver and lead mine. Built in 1867 and restored 100 years later by the National Trust this engine house is the only clue to Mary Tavy's fascinating and exciting past. The village has been home to both the world's largest copper mine and the world's largest waterwheel.

Top