future events
Date TBA
It is possible that a celebration of 50 years connection with Baggator make take place. The venue and format of the occasion is yet to be decided. This website will be used to promote the celebrations and further details will appear here.
past events
10th March 2012
Around 40 people attended the Baggator Reunion evening at Briantspuddle Social Club. It was good to meet some of the original folks who went to Baggator Farmhouse to renovate it. Also those who attended were ex-staff members, wives, partners and those who just had a love for the memory of Baggator.
Ladies catching up on the news
A large selection of photographs and newspaper cuttings were displayed. Many stories were told, some no doubt embelished over the years but it was a fun evening and a time to be together. A number of photographs taken during the evening can be seen on the Reunion Gallery page.
29th October 2011
10 members gathered at Paul C's house for bacon butties along with tea and coffee. The group then decided to drive down to the Sandbanks ferry followed by a walk along the Studland beach to the tea hut for more refreshments. Then returning to the ferry and Paul's house where they were met by Ken, Lynn and Lesley. Most of the group hadn't seen Ken & Lynn for many years, so it was good to catch up with them and reflect on how much older the gang was.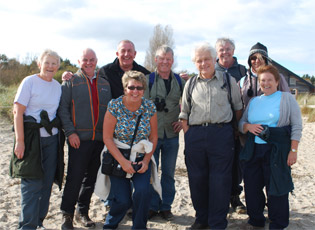 Group photo at Studland Beach
20th August 2011
11 folks met up at Frank A's house for a get together. Time was spent in the garden sunning themselves and telling tales of old times. It was followed by a buffet meal and refreshments.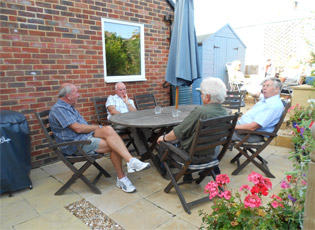 Relaxing in the sun
Top